So you're wondering: What is Power Automate? Why use Power Automate? What are the Power Automate Apps?
Microsoft's MS Flow is now Power Automate – Microsoft's cloud-based workflow engine. It can quickly automate any process or task. It allows employees to easily automate processes with connected sources such as MS Office 365. See below for a complete list of connectors.
Who can use Power Automate
Microsoft's workflow tool is taking the world by storm and it really delivers on Microsoft's promise and vision to put automation in the hands of all users. It does not matter who you are.
Whether you are an IT, Finance or HR professional, you will be able to use Power Automate.
You can use Power Automate to automate and streamline your own workload in your own workflow. The tool is doing fantastically well and it is becoming easier and easier by the day.
What do you need
All you need to use Power Automate is an email address and a web-browser. You can sign-up here for free and you're ready to go.
What can you do with it
Power Automate is a great tool to leverage business productivity by automating business processes for the entire company.
For example: With Power Automate one can build a flow that captures a lead from one of the many sources and propogate the data to MS Dynamics. Another example would be; capture specific tweets from Twitter and maybe retweet specific tweets. the list of capabilities is endless. This is where the connectors come into play.

What are the benefits
Easy and seamless integration with other applications
Power Automate allows you to easily integrate with other applications or services by means of connectors. A connector links 2 applications together. In this way data is "moved" from one application to another.
Share and access data
With the help of connectors data is easily moved from one application to another. This allows for data to be shared and gives easy access to required data.
Quick and safe automation
The cloud-based tool empowers everybody to quickly and easily construct secure workflows with a no-code experience. As easy as point and click.
Bring Intelligence to Workflows
Automate tedious manual tasks with pre-assembled artificial intelligence abilities. This provides an employee to concentrate on what matters more, more interesting and challenging tasks.
Improved efficiency
Incorporate efficient workflows with everything from singular assignments to enormous scale processes. As an alternative to do this manually, efficiency is evident. Save time and work effectively.
Why Power Automate is useful
And to mention once again. Power Automate is useful in automating work processes or tasks between your preferred applications and services.
For instance, you can automate certain tasks, to achieve the following:
Get immediate alerts to important notifications or emails.
Get notifications on your mobile device.
Track and catch up with new potential customers. Keep track of your business leads.
Duplicate all email connections to your OneDrive Business account.
Save document attachments in emails to OneDrive or SharePoint.
Gather information about your company and share it with your group.
Engage with social media. For example, a blog post can be tweeted or published on Facebook automatically.
Automate approval processes.
Power Automate connectors
Another fascinating thing about Power Automate is its capability of collaborating or connecting with other services or apps.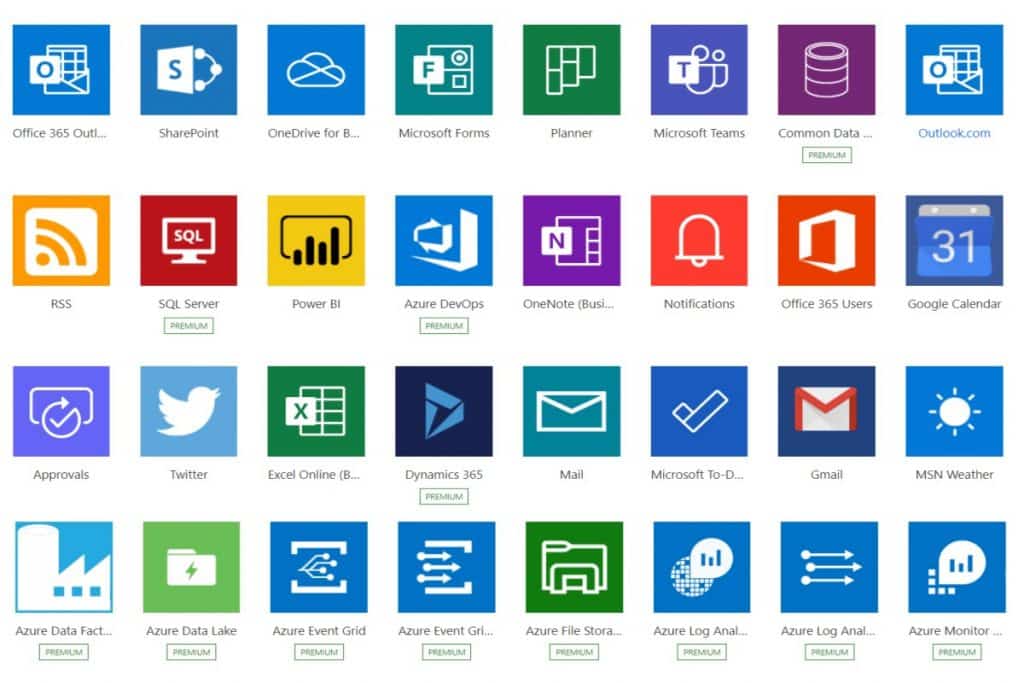 Power Automate brings 220+ applications and services on board. These include the famous connectors like, MS Dynamics, MS Planner, OneDrive for Business, MailChimp, etc etc.
Here you can find a full list of all the Microsoft Power Automate connectors.
Power Automate has become RPA
Robotic Process Automation is commonly known as RPA. Power Automate has its own modern RPA feature called UI flows. To create a UI flow, it's simple. Just a point-and-click operation. However, it does require some coding skill. This RPA capability transforms manual processes into automated workflows. This is done by processing human-driven communication with software frameworks that don't support API automation.
Microsoft claims it presently has a end-to-end process automation platform with applications and services' connectors that do support API automation.
RPA is a type of enterprise process automation. It depends on bots or AI workers. It should eradicate monotonous jobs so people can concentrate on what they specialize in. Automation of company processes isn't as easy as pie. Microsoft's Power Automate is an endeavor to offer API-based and UI-based automation in one unique tool.
Power Virtual Agents
Did the idea of coding skills switch you off? No problem with Power Vitual Agents. Coding skills is not required. Power Virtual Agents allows SME's (Subject Matter experts) to create bots with an instructural graphical interface.
Since Power Virtual Agents are included in the Power Platform, you can utilize the prebuilt connectors to have your bot communicate with your backend frameworks or call an API.
Power Virtual Agents rely on Microsoft's comprehensive Bot Framework. So if you really want to do some coding and want to add more complicated functionality, you can easily achieve this with Azure Cognitive Services and the Bot Framework.
Conclusion
Hence, we can conclude that Power Automate is a revolutionizing initiative. It has simplified the difficult errands and has taken loads of human responsibilities, on its own shoulders.
There is no doubt that this is a privilege of artificial intelligence. It enables Tech savy companies to make life easier.
If the need arises for some code and this scares you, you can still use a customizable chatbot creator named Power Virtual Agents. With this, any non-developer can create chatbots and administer and operate them.
This is how Power Automate by Microsoft has reformed the enterprise culture.